Uncertainty Looms Over Nigerian Elections As Electoral Body Raises Alarm Over Insecurity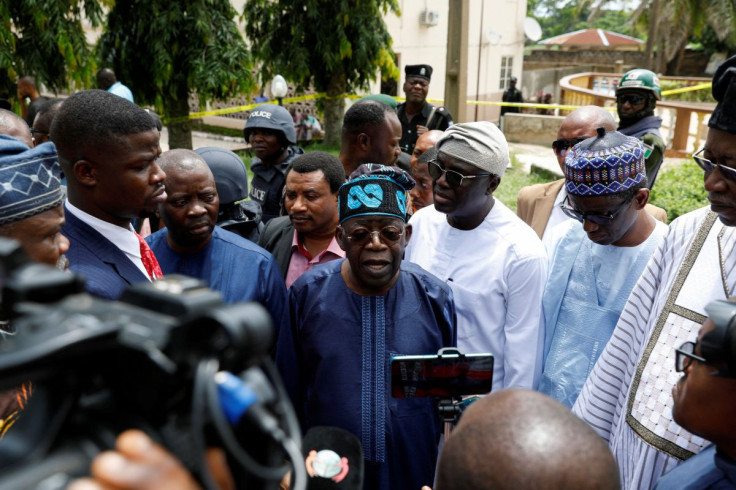 Since 2010, more than 40 coups and attempted coups have been staged in Africa, and half of them took place in West Africa. Six bids have been successful in the past three years alone.
Nigeria, Africa's largest economy and most populous nation, parted ways with military generals in 1999 and, since then, democracy has been thriving in the West African nation, often cited as role model for others.
So, stakes are high when Nigeria goes to general polls, slated for Feb. 25 this year, when the incumbent President, Muhammadu Buhari, calls it a day after two terms in office.
Nigeria is going to witness the mother of all elections next month as the polls will herald three consecutive peaceful transitions of power since its independence 63 years ago.
During the elections this time, citizens will head to polling stations to elect a new president, vice-president and all 469 members of the Senate and House of Representatives.
A few days later, they will again flock to polling booths to elect 28 state governors and members of all 36 state legislative bodies.
Eighteen candidates are in the fray to step into Buhari's shoes. They include: Bola Tinubu of the ruling All Progressives Congress, Atiku Abubakar of the opposition Peoples Democratic Party, and Peter Obi from the Labour Party.
Ahead of the polls, however, the election commission in Nigeria has dropped a bombshell.
The polls could either be canceled or put off altogether if insecurity is not brought under control, the commission warned on Jan. 9.
If the insecurity is not monitored, it could lead to the cancellation and/or postponement of elections, said Abdullahi Abdu Zuru, a national chairman of the Independent National Electoral Commission (INEC).
Quoting INEC chairman, Mahmood Yakubu, Zuru said in the capital Abuja that the commission is not leaving anything to chance.
Going by the statement of the election panel, the mega-poll campaign is currently in limbo which could result in a constitutional crisis in the largest democracy in Africa.
The election commission's worries about insecurity are based on past experiences where elections have triggered violence with the potential for nationwide social unrest.
Of late, nefarious activities by non-state actors have increased in Nigeria. Some of them have emerged with more sophistication and a high degree of brutality to kill, pillage, torture, and kidnap civilians, including school students, for ransom.
Bandit gangs and thugs are having a free ride. Kidnapping for ransom has become the order of the day. Hostility between cattle herders and farmers over grazing and water rights often takes an ugly turn in central and northwestern parts of the country.
General Muhammadu Buhari, a Fulani man, is reported to have a soft corner for his community, which has forced the farmers to put up a brave fight. In 2021, 357,473 people have been uprooted in the north-central Benue State alone.
Often, unrest between communities takes on ethnic and religious dimensions in Nigeria, which is divided between the predominantly Christian south and the Muslim-majority north.
A total of 28 priests were kidnapped in 2022 and in July alone seven kidnappings of Catholic priests took place.
The risk is further heightened by the ruling party after it selected presidential and vice-presidential candidates from the same faith this time.
Mass kidnapping has become a major law and order issue mainly in the northwestern part of the country.
As recently as Jan. 7, armed thugs targeted a railway station in southern Edo state and abducted nearly 30 people.
In July last year, gunmen exploded bombs at a prison on the outskirts of Abuja to free hundreds of inmates in an attack claimed by jihadists.
Of late, Boko Haram, an alleged affiliate of the Islamic State (IS), has found more takers and spread its wings to new areas. The jihadist outfit had earlier attempted to disrupt elections in the country.
Boko Haram, which means "western education is forbidden", came to the limelight in April 2014 when it kidnapped 276 schoolgirls in Borno State after the US State Department designated it a Foreign Terrorist Organization in 2013.
In Borno State, the Nigerian air force killed more than 200 Boko Haram members in an air raid in the Sambisa Forest division on Dec. 23.
Between May and June last year, at least 60 civilians were killed by Boko Haram in the Dikwa area, Borno State. More than 35,000 people have perished in northern Nigeria since 2009 when Boko Haram launched its insurgency to establish an Islamic caliphate.
Though President Buhari claimed at a state banquet on Jan. 9 night that the activities of Boko Haram in the north-east had been contained, they still ticking in other parts of the country.
As of now, Nigeria is caught in the middle of conflict and insecurity to a greater extent, but that should not hold back the election commission to demonstrate what it can do.
MEET IBT NEWS FROM BELOW CHANNELS